Submitted by

admin

on Fri, 12/11/2015 - 20:31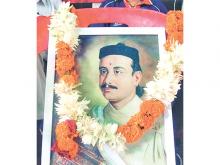 Literary Program organized by INLS, NYC in New York (Bhanu Jayanti -2015)
Jun 17, 2015-International Nepali Literary Society, New York, a US-based literary organisation, is celebrating the 202th Bhanu Jayanti at Chautari Restaurant, Jackson Height, US, on July 12. A literary circle of Nepali diaspora will be present during the programme.
The event will feature the recitation of various literary articles about the devastating earthquake that hit the country last month. The programme will also felicitate the personalities who have been helping to promote Nepali language and literature internationally.
The International Nepali Literary Society, NY, was established in 2004 as a chapter of the International Nepali Literary Society (INLS). Since its inception, the organisation has been working to promote the different languages of Nepal through writing, reading, publication, distribution, and translation. It also promotes Nepali culture, art, music and dance.
Source: http://kathmandupost.ekantipur.com/news/2015-06-17/bhanu-jayanti-in-the-...