Submitted by

admin

on Thu, 12/10/2015 - 22:19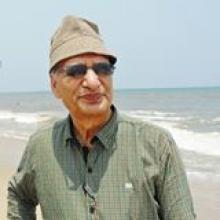 ...From somewhere a ray shines a message
To the people
To do what the country asks to do
This precise moment
I have placed the country's hand
On Buddha's palm.....
- Gopal Parajuli
ABOUT POET:
Mr. Gopal Parajuli, the current editor of national level literary magazine of Nepal "Garima", is renowed literary figure of Nepal and has a reputation for writing with excellence both in prose and poetry. He was born in Koteshwar, Kathmandu in 2004( Bikram Sambat ) in the family of Thir Kumari and Jivanath Parajuli. He is M.A. from the Tribhuwan University of Nepal. His new experimental uses in literature make the reader feel that he has no difficulty to move along with the flows of ideas.He is considered as a source of inspiration for nepalese poets of young generation as his popularity is immense in the horizon of modern nepali literature.
He was very sincere to literature from his early child-hood & eventually had reached to the top of the mountain "Everest of Nepali Sahitya" by now.Some of his renowned achievements are: First prize winner-All Nepalese Literatures' Competition on 2031 (B.S);winner of All Nepal Poetry Anniversary of 2038 B.S.; winner of "Deepa Janamat Puraskar" ; the winner of Common Prize ( Sajha Puraskar ) in the field of Nepali Sahitya.
Some of his popular publications as well are: Golardha Ka dui cheu(Drama) ; Prithivimathi Aalekh (series of Poetries) ; Sadak pachi Sadak (Drama) ;Dishahin Aakash (series of poetries); Himalmathi Aalekh(series of poetries- under publication).
His hobbies: writing & travelling.
Mr. Parajuli says: " The literature has become experimental issue in the human society which solely depends on the time factor. The various literary issues of "-ism" are also the reflection of such experiments.I also believe on experiments related to Nepalese literature . Activation followed by the realization of new ideas should be considered as an experiment.Because,any new idea is based on the beliefs,explanations,expectations,intellect and many many other factors of the society.Man is also the product of experiment of Creator of human beings. The Creator gets satisfied finding the uniqueness and unsimilarities of products he created ! I am trying to express these phenomena by the way of poems, dramas & stories I write.It's not a full expression yet whatever I wanted ."
We have been publishing his interesting poem first time in Free Nepal.
Kathmandu Declaration
The world had lost its discipline
Its morality, peace and calmness
Were all gone
But the world has become vigilant now
I see the justice come shining to me
Inside my little room
And in the country where I belong
I don't hear the protesting voices
Against peace
This moment even my foes have to trust me
My friends have to give up arms
Buddha has now walked to the centre of the Earth
At Lumbini when I look up
My eyes tell me
For those who marched away from the country
Would come back to their land
Or towards me to see their own people
From somewhere a ray shines a message
To the people
To do what the country asks to do
This precise moment
I have placed the country's hand
On Buddha's palm
When human beings are suffering
Widespread pain all around the world
This moment,
My people are realising their identity
With my own country
Translated by Karma